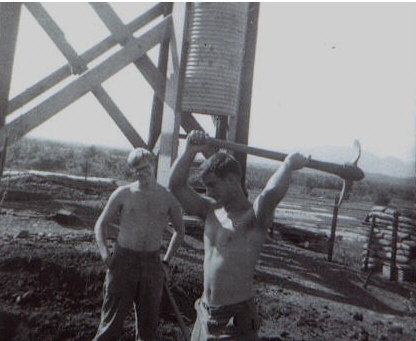 Davis is providing moral support to Lee Dart of Clearwater, Florida, who is swinging the pickaxe. Doc's story has added new meaning to this photo from Davis' album.

If Doc Dyer had been with us I would have taken the ride but I was the only Corpsman with the patrol. As you can see it was a dangerous road back. I told Sgt. Bolton I would go along with them. He said 'Doc, if that ankle swells up you're not going to be able to walk on it.' He said 'If you fall back you're on your own.' He never wanted to be away from the Hill with so few Marines defending it. He was expecting us to get hit and a few weeks later we were.
Hill 25 is probably a little over two miles away from Hill 52. We were across the river a mile or better away from Hill 52. This is then about a four mile walk back to Hill 25. If I had taken my boot off I would have never made it back. I left my boot on for a week to support my ankle.
It was dark when we went through the village. After we got through the village I did start to fall behind and Sgt. Bolton was true to his word - he never slowed down. A couple of Marines fell back with me. They were on the Hill half an hour before we ever got there. The last mile I leaned on Davis' shoulder.
You never forget what a friend does for you.
I am very sorry for your loss. I had been in the field seven months when I went on R&R to Hawaii. While I was gone the Hill was over run.
Doc Hanmore"