Dear Mom, Nov 1, 67
Received your letter(s) today. I got 3 letters from you and Angie. Mom I wish you wouldn't work so much, it's hard on you, even if you don't realize it. I'm going to talk to my career advisor and see if I can get stationed in Ohio when I leave here. If I can, I'll be able to help out at the house. Russ wrote to me, he's in the 3rd Division. He may be up at the DMZ when he comes over - I hope not.
I can't wait to see Philip and everybody else. I'm sure they've all grown.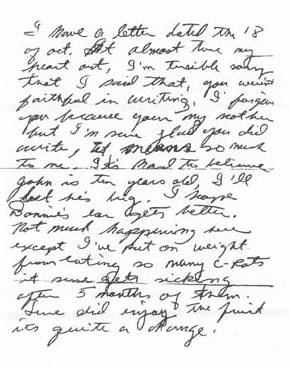 [p. 3]
Please send homemade cookies and candy, it sounds great. You don't realize how much it helps to see and receive a package from home.
Just got paid. I only drew $95.00 off so I can save for Christmas. If I can get into Danang I may order some gifts by mail for you and the kids. Well mama, I hate to close but not anything new around here.
Be good, and please don't work so hard.
Love,
Davis